We've temporarily suspended on-campus events due to the COVID-19 outbreak, but we would be happy to schedule a virtual meeting or phone call with you since we can't meet with you in person at this time. The Office of Admissions is operating, so please feel free to call, email, or text us. We look forward to serving you and getting to know you better. Let us know how we can best assist!
Phone: 503.552.1660
Email: admissions@nunm.edu
Text: 503.917.3582
---
When available, we'd love for you to join us at one of our many on-campus events, including exploration days or personal campus visits. Find the best spot to stay for your visit here.
Want to find out more about natural medicine programs but can't come to us? Let us come to you! NUNM Admissions representatives travel the country for everything from graduate school fairs to local festivals. View our road calendar below to find out when we will be in your city or area. If you don't see anything in your local area, check back as new events are added regularly.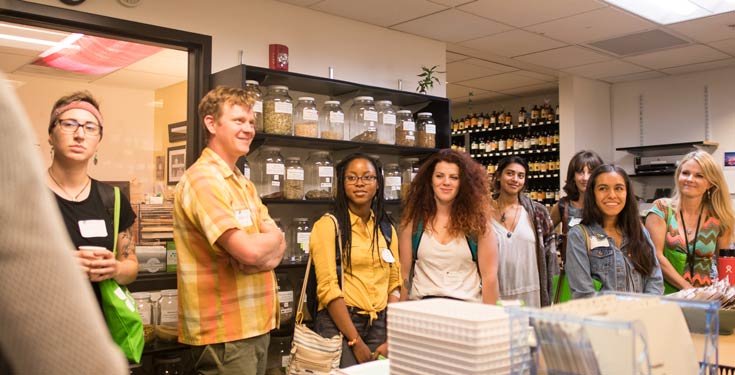 Portland Area Events
The campus is closed for visits at this time. Once this option becomes available again, you won't have to wait for a scheduled event to visit campus. We welcome personal campus visits by appointment 8:00 a.m. to 4:30 p.m, Monday through Friday. In the meantime, let's connect virtually!
On the Road Events
Our team may not be traveling this fall but we will be hosting and attending virtual events across the nation! If you see an event we're attending, please check with your school on how to attend or register for one of the events we are hosting. We look forward to connecting!
Currently no events scheduled near you? Call or email us to get all your questions answered.
Phoenix, AZ Metro Meet-up QA

Monday, 09/28/2020

10 – 11:30 a.m.

Online

UNC Asheville NextFest: Grad School Edition

Online

Phoenix/Tempe/Scottsdale, AZ Meet-up QA

Tuesday, 09/29/2020

11 a.m. – 12:30 p.m.

Online

ND Q&A with the Admissions Team

Online

Syracuse University Grad School Fair

Online

San Diego State University - Virtual Graduate & Professional School Fair

Online

University of Minnesota Morris Graduate School Fair

Wednesday, 09/30/2020

11 a.m. – 2 p.m.

Online

Clarkson University Grad School Fair

Online

MScN Q&A with the Admissions Team

Wednesday, 09/30/2020

1 – 2 p.m.

Online

Cornell University Grad School Fair

Online

Flagstaff, Sedona, Prescott AZ Meet-up QA

Thursday, 10/01/2020

10 – 11:30 a.m.

Online

Utah Association of College & Employers - Virtual Graduate School Fair

Online

Howard University Info Session

Online

Georgia College Grad School Fair

Online

Tucson, AZ Meet-up QA

Friday, 10/02/2020

11 a.m. – 12:30 p.m.

Online

Radford University Grad School Fair

Online

Indiana State University Virtual Graduate Recruitment Fair

Monday, 10/05/2020

Noon – 4 p.m.

Online

Louisiana State University 2020 Fall Virtual Health Professions Fair

Tuesday, 10/06/2020

10 a.m. – 2 p.m.

Online

Cal Poly Pomona - Graduate & Professional School Virtual Fair 2020

Online

CCM Q&A with the Admissions Team

Online

New Mexico State University Graduate & Professional School Fair

Wednesday, 10/07/2020

10 a.m. – 2 p.m.

Online

Mercyhurst University Grad School Fair

Online

SUNY Plattsburgh Grad School Fair

Online

MScGH/MSiMR/IPSL Q&A with the Admissions Team

Online

Undergrad Q&A with the Admissions Team

Thursday, 10/08/2020

10 – 11 a.m.

Online

Portland State University Info Session

Online

University of Pennsylvania Info Session

Online

Tulane University 2020 Fall Virtual Career & Graduate School Fair

Friday, 10/09/2020

11 a.m. – 2 p.m.

Online

Johns Hopkins University Info Session

Online

Williams College Info Session

Online

University of Colorado at Colorado Springs Graduate School Fair

Online

Longwood University Grad School Fair

Online

Atlanta University Center Consortium Arts & Sciences Grad School Fair

Online

ND Q&A with the Admissions Team

Online

Nova Southeastern University Info Session

Online

Western Washington University - Virtual Graduate School Info Fair

Online

University of New Mexico Graduate & Professional School Virtual Fair

Thursday, 10/15/2020

11 a.m. – 2 p.m.

Online

Case Western Reserve University Info Session

Online

MScN Q&A with the Admissions Team

Online

Atlanta University Center Consortium Medical Schools Fair

Online

Northern Arizona University Graduate School Fair 2020

Friday, 10/16/2020

9 a.m. – Noon

Online

Smithfield College Info Session

Online

Rutgers University Info Session

Online

Western Michigan Virtual Graduate and Professional School Fair

Monday, 10/19/2020

3 – 6 p.m.

Online

North Carolina Central University Grad School Fair

Online

Michigan State University Virtual Graduate and Law School Fair 2020

Tuesday, 10/20/2020

Noon – 3 p.m.

Online

Grand Valley State University 2020 Graduate School Fair

Wednesday, 10/21/2020

10 a.m. – 1 p.m.

Online

Pennsylvania State University Grad School Fair

Online

University of Arizona 2020 Virtual Graduate School Fair

Wednesday, 10/21/2020

1 – 4 p.m.

Online

University of Vermont Grad School Fair

Online

Arizona State University Graduate School Expo: STEM, Medicine, Health + Wellness

Thursday, 10/22/2020

10 a.m. – Noon

Online

Wheaton University Grad School Fair

Online

Saint Joseph's University (PA) Grad School Fair

Online

Kenyon College Info Session

Online

Bard College Info Session

Online

University of California, Berkeley - Graduate and Law School Fair

Online

Duquesne University Grad School Fair

Online

Boise State University - Fall 2020 Virtual Graduate School Fair

Online

Hofstra University Info Session

Online

Eastern University Grad School Fair

Online

Ithaca College Grad School Fair

Online

University of California, Los Angeles - Graduate Opportunities Fair

Online

College of the Atlantic Info Session

Online

New College of Florida Grad School Fair

Online

University of California, Irvine - Law, Graduate and Professional School Virtual Fair 2020

Online

University of California, Santa Barbara - 2020 Graduate & Professional Schools Day

Online

Averett University Grad School Fair

Online

SUNY Binghampton Graduate School Fair

Online

North Carolina A&T State University Grad School Fair

Online