As a naturopathic medical student, you'll observe and treat real patients in our teaching clinics. This clinical training will be the cornerstone of your education at NUNM. From observing in your first year in school to becoming responsible for patient care in year four, you'll clock more than 1,200 hours of direct patient contact during your time in our clinics.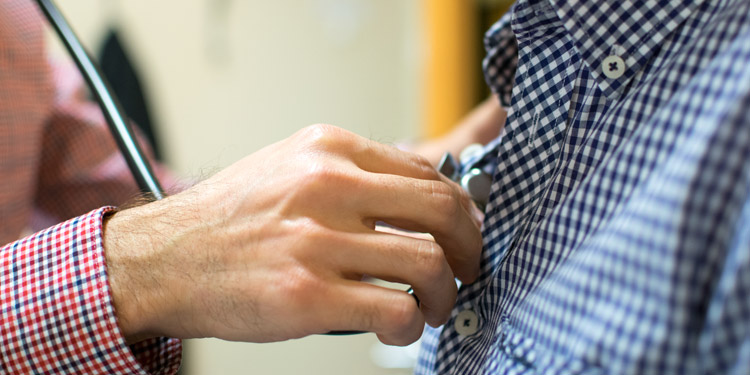 Our students treat the most diverse patient population of any naturopathic teaching clinic. Because our on-campus clinic is designated a Patient-Centered Primary Care Home, we're able to accept insurance coverage from patients who utilize Medicaid, such as those with disabilities and low-income families.
Other diverse populations are served by our community health clinics. Spread throughout the Portland area, each clinic offers services to patients with mental health issues, people experiencing houselessness or addiction, and other vulnerable populations. As a naturopathic medical student, you'll progress over four years to directly treating these complex and nuanced cases, making you uniquely qualified to serve in a wide variety of healthcare careers.
"We help so many people who otherwise wouldn't get care. It seems like the kind of work that our students want to do, so we're always looking for new opportunities to create diverse learning environments for our students, to provide better care for our patients."

-Ada Catanzarite, Community Engagement & Patient Services Manager
More Exposure to Real Patients – Starting in Year One
Many medical schools begin the core of their clinical teaching in year three or four. At NUNM, you start working in the clinic your first year, giving you a depth of clinical learning unlike any other naturopathic medical school. We believe this model trains you to be a better doctor.
"The earlier the students get exposure, the broader their exposure will be. That's really going to shape them into what kind of doctor they want to be. Our goal is to make competent, ethical practitioners."

-Dr. Kelly Baltazar, Dean, College of Naturopathic Medicine
Each term, students build on what they learned previously in clinic shifts. Rather than learning all clinical skills in one or two years, you'll learn in stages over four years, allowing you to refine individual skills and layer them while gradually gaining more responsibility for patient care and diagnosis.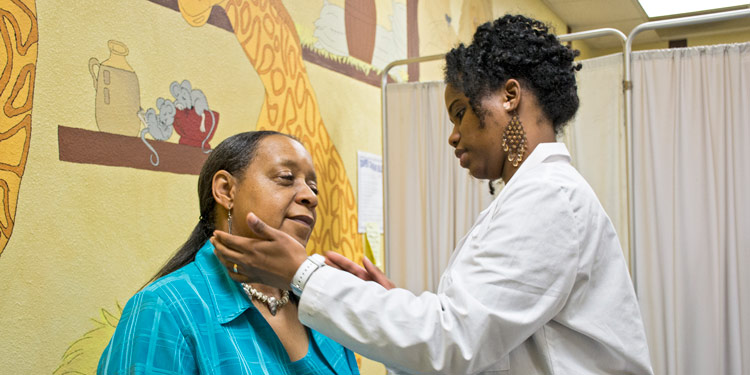 So, what does that clinical experience look like over the years?
Year One: Clinical Observation and Career Exploration
As a first-year naturopathic medical (ND) student, you'll spend 40 hours in our on-site clinic observing real patient appointments. Under the mentorship of licensed practitioners, you'll reflect on professionalism and ethics, and start to identify what direction you might take as an ND.
Have a passion for a certain specialty? Choose to observe shifts in the following focus areas to better prepare for your career:
Primary care
Women's health
Oncology
Minor surgery
Physical medicine
Homeopathy
Non-opioid pain management
This early exposure allows you to observe firsthand what it looks like to be a doctor; to explore and identify career opportunities; and to find inspiration through real patients, licensed naturopathic doctors and your future mentors.
Year Two: Hydrotherapy Treatment and Administrative Skills
In your second year, you'll dive into the classic naturopathic modality of hydrotherapy. Under the supervision of licensed physicians, you'll develop patient communication skills while administering hydrotherapeutic treatments. Why is this important? Hydrotherapy is a low-risk first step into treating actual patients. You'll gain responsibility while still having the support of licensed doctors diagnosing and prescribing the hydrotherapeutic treatment.
Year two is also the start of learning administrative work. As a future ND, it's important that you learn to work within the broader medical system—skills like writing notes in EPIC, a widely used electronic medical records system. You'll begin to learn these skills in your second year and throughout the rest of your time in clinic.
Year Three: Weekly Patient Care Within the Medical System
In year three, you become the secondary intern in patient exams. That means you'll assist the primary intern (fourth-year student) with direct patient care and administration, such as greeting patients, logistical paperwork and taking vitals.
"I encourage third-year students to learn the logistics of working in a clinic, so that in the fourth year they're able to focus on quality patient interactions."

-Dr. Kelly Baltazar, Dean, College of Naturopathic Medicine
Getting comfortable with these competencies in your third year allows you to focus fully on growing your patient communication, critical thinking, diagnosis and treatment skills in your fourth year.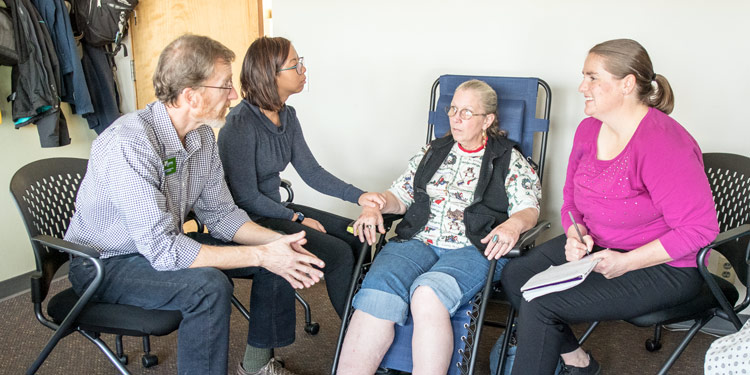 Year Four: Patient Management as the Primary Intern
In your fourth and final year as an ND student, you are the primary intern for the clinic's patients. Under the supervision of licensed physicians, you have autonomy to:
Take patient histories
Perform physical exams
Deliver assessments that include diagnosis and treatment recommendations
Follow up with patients after their appointments
You'll apply more than three years of knowledge from class and clinic to real patient cases.
Much of the learning in your fourth-year clinic shifts focuses on time management, interpersonal patient relations (like body language and listening), empathy and diagnosis. You've built skills in professionalism, administration and patient contact. Now you're developing into the physician you want to become.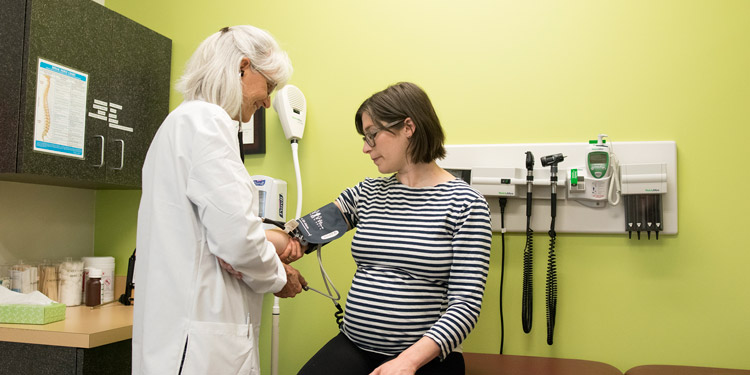 Train to Become a Naturopathic Doctor
At NUNM, we focus on a rigorous, real-life clinic experience because we believe it prepares you to become the doctor you want to be: one who best serves your patients. While early exposure and diverse clinic shifts set you up to practice in real-life settings, you can also enrich your clinic experience in other ways:
Preceptorships: A required component of your naturopathic education, preceptorship allows you to work with a variety of practitioners in their clinics. Read about what you'll learn in the preceptorship program here.
Residency program: Upon completion of your degree, you can apply to NUNM's residency program—the first of its kind in the natural medicine space. Read about our residencies.
Mentorship from licensed practitioners: With hundreds of NUNM alumni in the Portland area, you can connect with and shadow licensed practitioners in many different areas of natural medicine. Oftentimes, these practitioners become career-long mentors for our students.
Learn More
Interested in becoming a naturopathic doctor? Our admissions team can answer further questions about the clinic experience and our ND program. Contact them at 503.552.1660 or admissions@nunm.edu.