Due to the COVID-19 outbreak, we have suspended in-person meetings. We are happy to offer the following services to help you get to know NUNM better:
Live Program Q&As with the Admissions Team
Emailing or texting (503.917.3582) with the Office of Admissions
Talking with a current student or faculty member
Phone Q&A: 503.552.1660 / Toll-free 877.669.8737
Online video chat
We look forward to working with you during this time to continue helping you explore your path at NUNM. Let us know how we can best assist!
---
It is impossible to fully convey in writing the experience of being a student at NUNM. That's why we suggest coming to see for yourself! The best way to explore a future with NUNM is to visit campus—whether you come for a personal campus visit or an NUNM Exploration Day.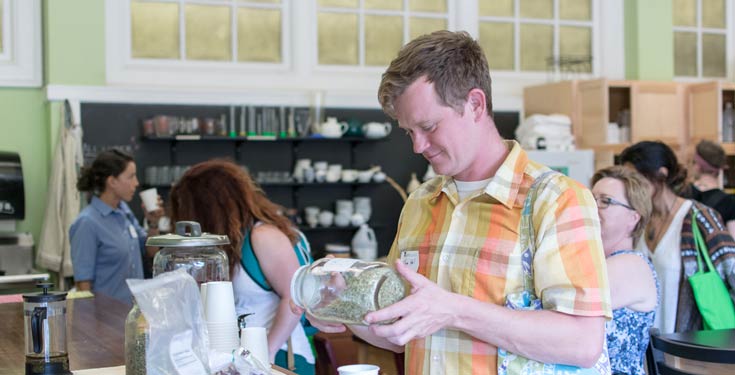 Personal Campus Visit
The campus is closed for visits at this time.
We look forward to meeting with you, giving you a campus tour, or arranging for you to observe a class. Our office provides the opportunity for prospective students to experience our urban campus and interact with staff, faculty and current students. Learn about our degree programs; tour the campus and our on-site health center; and explore careers in naturopathic medicine, classical Chinese medicine, global health, integrative medicine research, and nutrition. You'll see firsthand why NUNM is at the forefront of the changing healthcare landscape, all while experiencing the incredible NUNM community of students, faculty and staff. Campus visits are available Monday through Friday, 8:30 a.m. – 4:30 p.m. Please note, certain activities will not be available during exams, finals week and major holidays. Find out where to stay here.
Campus tours guided by our staff (1 hour)
Q & A advising appointment with an admissions counselor (30 mins)
Clinic case observation at the NUNM Health Center (2 hours)
Observe a class – experience what it's like through the eyes of a student
In order to accommodate your request, please schedule your visit at least two weeks in advance.
Exploration Day
Exploration Day provides a general overview of NUNM and all degree programs. These visit days provide greater insight into the curriculum, student life, and faculty of the respective programs. The Office of Admissions invites all prospective students to attend one of these daylong programs where you will have the opportunity to meet members of the NUNM faculty, staff and student body. View our upcoming events. We can't wait to show you the benefits of studying health and wellness in Portland, and the ways an education from NUNM will set you up for future success.
NUNM will provide a light breakfast and lunch.
Faculty-led presentations on NUNM graduate programs
Admissions and financial aid information sessions
Student-led campus tours
Meet Us in Your City
Want to find out more about natural medicine programs but can't come to us? Let us come to you! Our admissions team travels the country visiting graduate school fairs, local festivals and more. View our travel schedule to find out when someone may be in your area. If you don't see anything in your city, email or call one of the members of our admissions team.
Chat with a Current Student
NUNM has over 500 current students on and off campus. Our students have dedicated themselves to education in natural medicine, classical Chinese medicine, nutrition, global health, research and more. Our current students are extremely passionate about what they are learning and often talk with prospective students about what it's like to attend NUNM. If you would like to visit with one of our students, please call the Office of Admissions for a referral.
Choosing the right natural medicine school can be daunting. That's why our admissions counselors are here to help you every step of the way. We'll answer all of your questions and provide the information you need to make the right decision for your future as a healthcare professional.
Our office is open Monday through Friday from 8 a.m. – 5 p.m. PST, however the office is closed from Noon-1 p.m. for lunch.
Mailing Address
NUNM – Office of Admissions
49 South Porter Street
Portland, OR 97201
Questions? Please feel free to call (503.552.1660 / Toll-free 877.669.8737), email (admissions@nunm.edu) or text (503.917.3582).