New! The Office of Equity and Inclusion now has a drop box (located outside of the Human Resources suite). We would love to hear from you. Stop by and drop off your comments and/or suggestions.
Mission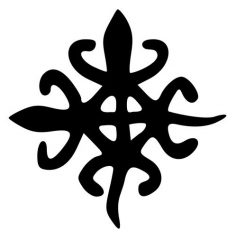 The Office of Equity and Inclusion (OEI) was founded in 2016. The mission of the OEI is to collaborate with the NUNM community to advocate for and educate about issues of diversity, equity and inclusion. The OEI supports the recruitment, retention, and holistic success of all students, staff and faculty at NUNM. The Office aims to strengthen the appreciation, celebration and awareness of diversity in race, color, religion, national origin, sexual orientation, marital status, disabilities, age and veteran status.
African Adinkra Symbol, "Within diversity, there is Unity"
Goals
The Office of Equity and Inclusion strives to foster a sense of belonging for all community members by cultivating a more diverse, inclusive and equitable campus community.
Title IX
Title IX issues are related to gender-based harassment or misconduct, which may include acts of verbal, nonverbal, or physical aggression; intimidation; or hostility based on sex or sex-stereotyping, even if those acts do not involve conduct of a sexual nature.
Contact Us
The Office of Equity and Inclusion is located in Suite 200 of the Administration Building.
Diversity Training
Dr. Larry Roper visited our campus recently to discuss creating a diverse and inclusive campus culture. Administration, faculty, staff and students were in attendance.  If you were unable to attend, we invite you to watch the powerful presentation below.
Finding Local Community
Building community and engaging in social networks outside of NUNM can help strengthen and nourish cultural identity and awareness. It can also provide opportunities to immerse in intercultural experiences and be in community with people from diverse backgrounds. These resources and links are not sponsored by the University and NUNM is not liable for the quality or accuracy of the events listed on this site.
Intercultural Resources
Local Organizations
Community Centers
LGBTQ Resources
Religious and Spiritual Communities
Veteran Resources