Welcome to NUNM Wellness!
The wellness initiative is designed to increase the opportunity for staff to focus on health and wellness in the workplace.
This initiative's focus is self-care and collaboration. It is institutionally supported and focuses on natural medicine choices.
Wellness, self-care and collaboration are important elements in making NUNM a healthy place to work.
Elements of the Plan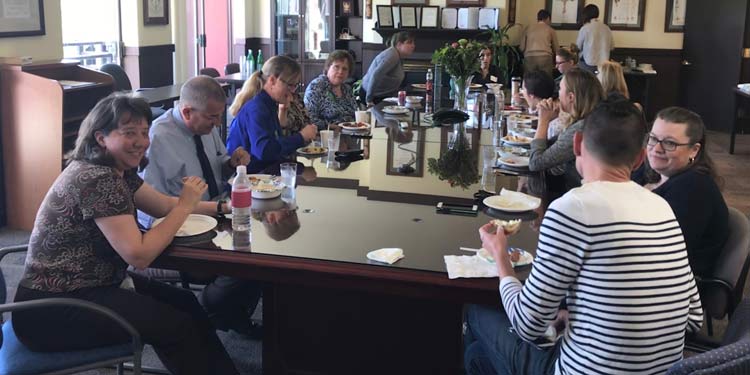 Allocated one hour of self-care per week: Employees are allowed one hour of paid time each week to participate in self-care activities. Activities can be collaborative or solitary.
Community potlucks: An opportunity to collaborate with colleagues to share meals and cultures to foster diversity and inclusion.
Expressions of gratitude: Human Resources has available "thank you's" that can be sent across the university to others who have helped in some way.
Focus bulletin boards: In selected hallways each college or school maintains a bulletin board that includes items promoting wellness, comfort, gratitude and acceptance.
Presentations and "Lunch & Learns": Each school, college and institution offers or sponsors talks and presentations each term to integrate and teach our core philosophy surrounding teaching and healing. These talks and presentations help integrate a general awareness of health, healing and wellness.
Theme or activity-based groups: Staff will have opportunities to develop and/or join groups based on faculty and staff interests, including book clubs, walking groups, mediation and yoga sessions, running or cycling clubs, cooking and crafts.
Volunteer/Giving opportunities: Volunteer opportunities are hosted throughout the year to increase collaboration and increase feelings of goodness and compassion.
Events
Earth Day Potluck – Wednesday, April 24. Join your colleagues for an Earth Day inspired potluck in the Ken Harmon Conference room. Participate by bringing your favorite home cooked or purchased foods that are local, organic and/or sustainably harvested for this zero waste potluck. More details to follow.
Getting Fiscally Fit – Please join us for a special presentation on "fiscal" fitness and financial wellness. Our guest speaker, Christian Durso, a member of the Society for Financial Awareness, will speak on the basic principles of cash management, roadblocks to financial success, debt trap and other topics.  Mark your calendar for Wednesday, May 8 from noon to 1 p.m. in Room 201, Academic Building.
Importance of Hydrotherapy – Gaia Mather, ND, will lead a discussion about the importance of water to our health and well-being. She will address the importance of staying well-hydrated and discuss simple hydrotherapy techniques folks can do at home. A Q&A will accompany the talk. Friday, May 17 from 11 a.m. to noon in Room 220, Academic Building.
Healthy Lunches & Snacks – Do you get into a mid-afternoon rut and succumb to an unhealthy snack? Are you tired of tasteless boxed frozen lunches or eating out and spending way too much money? Join us for a talk on healthy snacks & lunches on Thursday, May 23 from 12:30 to 1:30 p.m. in room 301, Academic Building. Kristy Regan will lead us in a discussion of creative meal planning options and time saving techniques. Snacks will be provided.
Retirement Readiness – Please join your NUNM colleagues and students for a special presentation on Retirement Readiness presented by Kimberly Herrmann, Public Affairs Specialist with the Social Security Administration. The hour long presentation begins at 3 p.m. on Tuesday, June 4 in Room 310 (Mitchell Hall), Academic Building.  This is a presentation for all age groups.
Emotional Wellness – Please join the wellness team for a special presentation on emotional wellness presented by Emily Whitson in Room 301, Academic Building, from 12:30 to 1:30 p.m. More details to follow.
Forms