Enrollment
As of fall 2018, the NUNM College of Classical Chinese Medicine (CCM) had a total of 151 students with 60 enrolled in the DSOM program and 91 enrolled in the MSOM program. Of these 151 CCM students, 67 were also enrolled concurrently in another graduate program at NUNM.
For more demographic and enrollment statistics, please see the NUNM Facts & Figures.
Retention and Graduation Rates
The table below represents attrition and graduation rates from CCM programs. It's important to note that the below statistics do not represent institutional attrition. NUNM allows students to take two graduate degrees concurrently and to add or drop new programs at any point during their academic careers. Consequently, many students initially enroll in two programs and later decide to leave one program to more fully focus on the other. Institutional attrition (i.e., students who leave NUNM) continues to remain low at less than 7% of the total student population annually.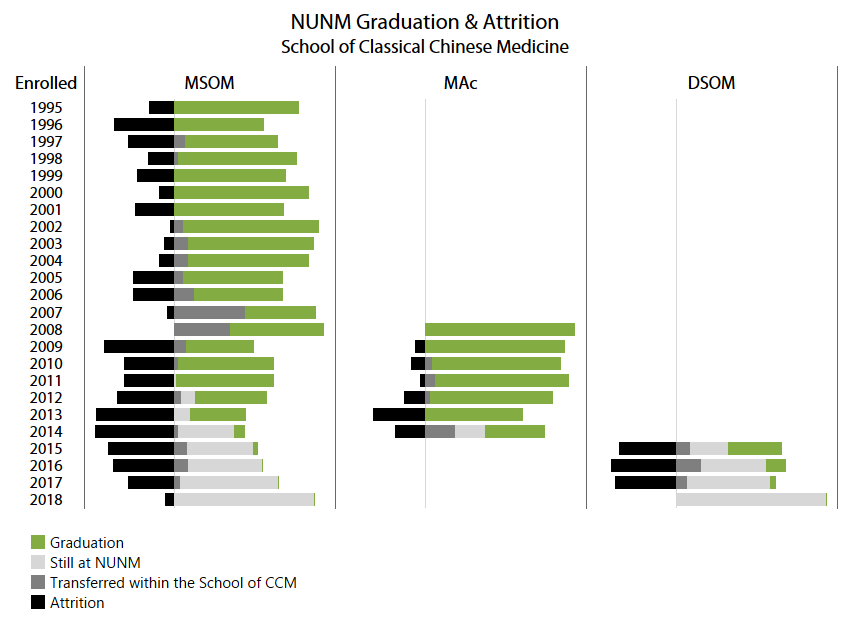 View more detailed attrition numbers.
License Exam Pass Rates
A passing score on the NCCAOM certification exam is required for acupuncturist licensure in 46 states plus the District of Columbia. Please click the link to below to view a more detailed report of pass rates for the past eight years.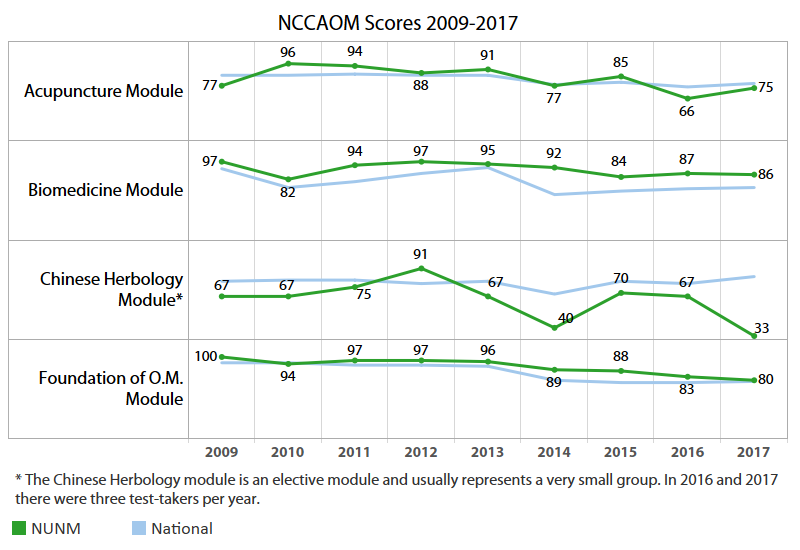 NCCAOM License Exam Pass Rates
Employment Data


Each year NUNM graduates are contacted and asked to share wage data and employment outcomes. Graduates "working in their field" are using skills and credentials directly attributable to their NUNM education and are seeking to be paid for the work. Individuals who have opened or joined a clinic are included in this definition.


Cost of CCM Programs
CCM Programs Tuition Estimate, 2018-2019
More information can be found on the tuition and financial aid web pages:
Tuition & Fees
Financial Aid